... sheer cliffs and some huge waterfalls, such as Angel Falls, the highest in the world with almost 1000m of freefall from the top of the mountain Ayuntepui.

It is possible to enjoy the wild and untouched beauty of the park even on the well-travelled tourist routes, which have become more numerous in recent years since the paving of the main road in the late 80s, allowing any vehicle access to this beautiful place.

However, in order to complete the mission that brought David Santiago to this far-away and mysterious land, it was necessary to take many trips by boat on Lake Canaima, by helicopter to fly over the tepuis, cross the Devil's Canyon to see this natural marvel, walk on the Great Savannah and go through the forest on almost impassable paths.

The hardest part of the trip to Canaima was embarking on an expedition to climb Roraima, "The Crystal Mountain", a 2800m high tepui. For this expedition - which lasted several days - it was necessary to find an experienced guide, sherpas and obtain a special permit from Bolivar City. It is a difficult journey, but it's worth it when you reach the top, from where you can gaze upon an immense and infinite landscape at the same time as feeling like you're in a unique place on Earth, full of energy. Up there on top of the tepui, you can understand why the natives call these mountains "the home of the gods".

The spectacular images that David has sent us demonstrate that there is still much for us to discover for ourselves with just a little spirit of adventure, and that through photography we are able to show the world what our eyes see, what our mind perceives and what our camera records for posterity.
Look the photos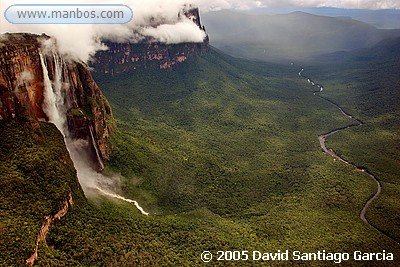 SALTO DEL ANGEL - PARQUE NAL. CANAIMA - VENEZUELA