... mystery still surrounds its past. Buried in amongst the cliffs from which it was carved and despite having been hit by several earthquakes over the centuries, Petra still has many well-preserved buildings and a lot more under the surface, buried by sandstorms and hidden to this day.

The entrance to the city, with the image of The Treasury appearing from between long walls of sand, is something that all those who have seen the film Indiana Jones and the Last Crusade will never forget. However, the city of Petra possesses many other treasures, which you have to seek out on foot. At least as monumental, perhaps more, is the monastery, which is accessed via a path excavated out of the rock with over 800 steps. It's worth the effort. Or the Sacrificial Altar, for which you have to endure another 45 minutes of stairs. The royal tombs, the theatre and the colonnaded street are easier to get to.

Another of Jordan's sights that we couldn't miss was the majestic Wadi Rum desert, about which Lawrence wrote: "there is no man who could live this life and then leave here without changing. Every man would take with him, even if only slightly, the mark of the desert, the ties that the nomads have; and he will have in him the need to return, even if only weak or obstinate, depending on his nature".

This cruel land can bewitch you like no temperate climate can. Wadi Rum is a desert of red sands and imposing sandstone columns, which change in colour with the advance of the burning sun. It is the best place to meet the Bedouins and learn about their way of life.

For beach lovers, Jordan offers two possibilities. The first is the Red Sea which, according to experts, is the best place in the world for diving, and it is certain that nothing will surprise you like going underwater. Another impressive and no less famous place is the Dead Sea, with its high salt content that allows you to float on the surface like a cork.

Art lovers should also visit the Roman city of Jerash, famous for its mosaics and the country's most important Christian centre.
Look the photos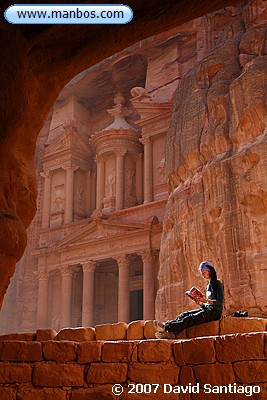 EL TESORO - PETRA