... and Jain cultures, where the Islamic civilization began to grow and the Sikh religion was started.

The history of Indian civilization is written in its stones: temples, palaces, mosques and mausoleums tell the history of India through art.

India remains a land of diverse marvels - the splendor of its royalty, its amazing customs, the marvel of its innumerable festivals and finally its incredible desert of golden sand.

David Santiago and Ana Vara have traveled throughout this civilization to show you the many faces of this spectacular land with a report and evocative photos.

The city of Varanasi, the eternal city chosen by the god Shiva, is located in the fertile Ganges valley. For the Hindus, a ritual bath in the purifying waters of the River Ganges cleanses all sins.

Rajasthan, once the land of kings, continues to amaze with its inspiring history, fascinating forts and palaces, thriving arts and crafts, and traditional culture.

Khajuraho has the sport of love on display with couples engaged in some bizarre acts, described in texts such as the Kama Sutra, Rati Rahasya and Ananga Ranga. The sculptures depict people making love standing up, side-by-side and upside down.

In conclusion, this was a journey through the most colourful, exuberent, revealing and noisy country in the world, a country full of treasures for any lover of photography.
Look the photos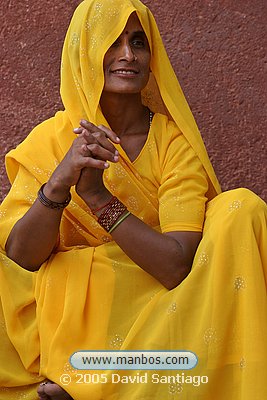 MUJER INDIA - AGRA
Fotogaleria INDIA MAY 2008
(224 Photos) India Pictures