... experience, taking advantage of the journey to this far away place.

The Maori call their islands Aotearoa - The Land of the Long White Cloud - due to the fact that the sky is often overcast. Once you are there you realise that this is the only way to maintain the impressive forests, which cover this unspoilt landscape with giant ferns that look like palm trees. The country is practically uninhabited, only 4.5 million people live here, barely a quarter of the number of sheep that seem to be the real masters of the islands.

Aotearoa is on the border of two tectonic plates, the Australasian and the Pacific, which makes the North Island in particular a real volcanic spectacle. In an area only about the size of Italy there are 13 national parks, of which two areas have been declared world heritage sites. The Tongariro National Park on the North Island, the oldest in New Zealand, is home to three active volcanoes and is a place of extremes and surprises, in which can be found lava, boiling mud, snow, deserts and ancient forests full of history and legends.

The south eastern part of the South Island is also a world heritage area and is home to four national parks full of surprises, the Alps of the south with mountains over 4 thousand metres tall, glaciers surrounded by forests and lakes like Franz Josef and the Fox glaciers, or the Fiorland with many lakes, mountains and fiords. All of this makes New Zealand a paradise for nature photographers, a land full of challenges and infinite secrets to discover. At www.newzealandluxury.com you can find the best ideas for getting the most out these amazing lands.
Look the photos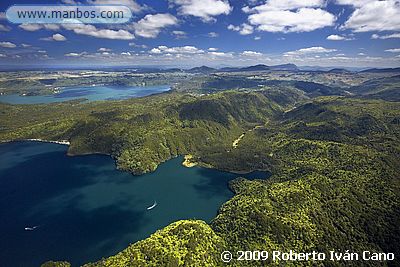 ROTORUA - NUEVA ZELANDA