... discoveries and achievements.

As a witness include the Cathedral of Santa Maria la Menor Cathedral of America call, which establishes the distinction, the Alcazar de Colon, America's first castle and residence of the Viceroy of the Indies, Don Diego Columbus, son of Christopher Columbus, the Monasterio de San Francisco, the ruins of the first monastery in America, the Museum of Casas Reales, the former Governor's Palace, the Palace of the Royal Court, Columbus Park, a historic square Ozama Fortress, the oldest fortress in America, the Pantheon of the Fatherland, a former Jesuit building that houses the remains of several renowned members of the Dominican Order, and the Iglesia del Convento Dominico, the first convent in America.

Saona Island is the largest island of the Dominican Republic, belonging to the province of La Altagracia, and included in the Parque Nacional del Este. Its main attraction lies in its beautiful pristine beaches, hence that every day come to it tourist boats looking to spend an unforgettable day in a Caribbean paradise.

Bavaro Beach is located in the Dominican Republic and was declared by UNESCO as one of the best sets of beaches around the world due to its white and fine sand. This coastline of 40 km uninterrupted emerald waters, offers a unique setting for conducting numerous water activities. One of the highlights is diving. Its shores have some of the most exciting dives around the country. If the trip takes place during the period between mid-December and mid-March, plus you can enjoy the nearby peninsula of Samana, one of the most impressive spectacles: the presence of humpback whales that visit the area each year to breed and care for their offspring.

The beaches of Playa Bavaro are fine white sand and amazing shapes and patterns created especially observable in the early hours of the morning. The sea is a soft blue-green, characteristic of Caribbean beaches. The water is transparent and abundance of algae in some areas, and the weather is constant, with average temperatures of 26 ° C, with the temperature range of about twelve degrees, from 20 ° C in winter to 32 ° C maximum between April and November.
Look the photos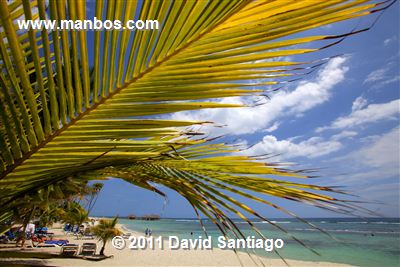 PLAYA DE BOCA CHICA - SANTO DOMINGO