... Europe. There you will feel as if you are walking through the pages of a history book, sometimes in the chapter on the 14th century, at other times the 18th century. A multitude of museums can be found wherever you go.

In 1992 the historic centre of the city was included on the UNESCO list of Cultural and Natural Heritage sites. Since it was founded, Prague has always played an important part in the history of the country and Europe. Since the Middle Ages it has been considered one of the world's most beautiful cities. Its historic centre stretches over both sides of the River Vltava and is made up of six districts: Stare Mesto (old city), Josefov (the remaining part of the old Jewish quarter), Nove Mesto (new town), Mala Strana (small district), Hradcany and Vysehrad.

The oldest bridge in the city, and the most famous, is the Charles Bridge, which replaced the Judith Bridge in 1342 after it was destroyed by a flood. King Charles IV ordered its construction in 1357. Both sides of the Charles Bridge are fortified with towers. Between 1683 and 1928 30 statues of saints were erected on the bridge's pillars.

Prague Castle is a national cultural monument, a symbol of more than one thousand years of development in the Czech State, built in the 9th century. It is a monumental group of palaces and offices in all kinds of architectural styles. It extents around three courtyards, occupying 45 hectares. Originally it was the seat of Czech kings and princes; from 1918 onwards it has been the home of the President.

Old Town Square, in the middle of the old district, is one of the most beautiful in Europe and home of the statue of Jan Huss, the first Church reformer (1415). The location of the execution of 27 Czech nobles is marked on the Square's pavement, as is the exact centre of Prague.

The best advice for a visitor to Prague is to wander around and lose yourself in the city without a fixed plan, leave the guides behind and discover teh streets, the corners and passageways, and enjoy the impressive palaces and churches in your own way.

Mozart, Beethoven and Dostoyevsky walked Prague's streets, its beauty left its mark and they composed their own tributes to the city.
Look the photos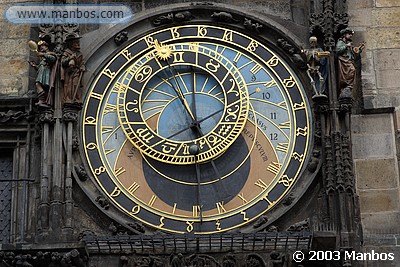 RELOJ ASTRONOMICO, PRAGA