... steel and glass. These great towers were designed by architect Cesar Pelli and completed in 1998 starting its construction in 1988.

Pelli Islamic geometric design used in the plant to entangle two squares, gradually decreasing in size on top, based on a very traditional motif in Islamic culture: a star of 12 peaks including a circle at each intersection. The towers are connected by a double height air gateway between floors 41 and 42, which forms a portal. The skybridge, as it is called, is the highest point accessible for visitors. To get an idea of ??the scale of this project simply count the number of windows available, although it will be a mission impossible, because it is nothing more and nothing less that thirty-two thousand windows (32,000) distributed by the 88 floors which can be accessed by 78 lifts.

Leaving Kuala Lumpur and the spectacular beauty of the Petronas towers, we visited some Perhentian Islands archipelago, 21 km from the Malay Peninsula. Pulau Perthentian is a sanctuary for fishermen, migratory birds and tourism nature lover, it is an island covered by virgin forest, with windswept palm trees and white sand beaches surrounded by sapphire blue waters. An ideal place to dive and photograph the most diverse marine fauna.
Look the photos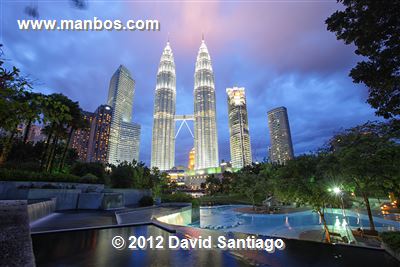 TORRES PETRONAS - KUALA LUMPUR - MALASIA