... the cinema. Apart from the lack of the traditional fog that used to envelope the city, coming from the Thames, we were not disappointed.

There were the bottles of milk on the steps by the front doors, left there by the milkman early in the morning. The Tower of London's ravens were still big and black, well looked after because of the legend that warns of terrible consequences the day they are not there.

The gentleman crossing Westminster Bridge, dressed in black, with his umbrella, his briefcase and his bowler hat was a typical sight every morning. The vinyl record shops with some jewels that could only be found here; whose size and weight caused us a few problems at customs on the way back. Tea at five o'clock. Big Ben, the changing of the guard, Oxford Street with its many enormous shops, Madame Tussaud's wax museum and, of course, Baker Street and, for our first stay in London, the Sherlock Holmes Hotel. There were also the big black taxis, the double-decker red buses, traffic driving on the left, the warnings at the crossings - look right -the Salvation Army playing music on street corners, the Tube/Underground/Metro (the first urban subterranean railway in the world) and, of course, the British Museum. This was free to get into and we were able to see one of the biggest collections of artefacts on the planet. The marvels of Egypt preserved there cover all aspects of Ancient Egyptian culture, from around 4000 BC to the 12th century AD. Finally we were able to see for ourselves the original Rosetta Stone, epigraphic monument, with three inscriptions in hieroglyphics, demotic and Greek, which enabled Francois Champolin to decipher the mysterious Egyptian hieroglyphics.

We have been back to London on other occasions since then and all of this remains almost the same, although not as much as Rome where, according to what we were told jokingly in the hotel, nothing has changed since Roman times.

Only a stone's throw away from London are the university towns of Oxford and Cambridge, famous for their historic boat race, but mostly for being home to great figures of science and culture throughout history. Also close-by is the picturesque town of Bath and its Roman baths, and the mysterious ruins of Stonehenge (2800-1800 BC), thought to have been used by ancient druids to observe astronomical events, such as solstices and eclipses.

Photographically, London is bursting with enriching experiences. On this occasion, this gallery of London was created by Roberto Ivan Cano and David Santiago Garcia as part of a job for the Conde Nast Traveler, and aims to portray the modern, multicultural and multifaceted nature of "The City", one of the biggest megalopolis in existence and economically second in the world, behind New York.
Look the photos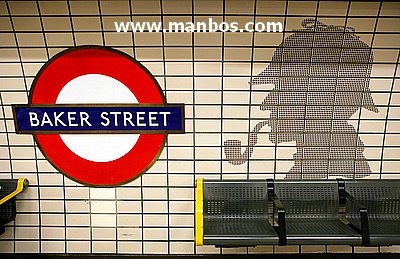 ESTACION DE METRO BAKER STREET, LONDRES