... island in the world and its name evokes images of impenetrable forests, mountains and rivers, which are patrolled by motorboats, the only mode of transport here.

One of the island's best known attractions is the Tanjung Puting National Park, where you can see wild orangutans, macaques, a multitude of birds and, at dusk, proboscis monkeys.

A trip to the National Park begins in the Pangkalan Bun police station, where you have to take photocopies of your passport and visa in order to obtain the necessary entrance permits. It is then necessary to obtain the services of a guide and a Klotok, which serves as a mode of transport, accommodation and restaurant. There is also the possibility of hiring a motorboat and sleeping in one of the camps around the edge of the park, which have all sorts of conveniences.

Whatever you do, you have to get up early, as is is essential to get to the orangutan observation centres for when they give food out to the wild orangutans, who make use of the feeding troughs.

You need to wear walking boots and waterproofs, as these feeding troughs are located in the middle of the forest.

Look the photos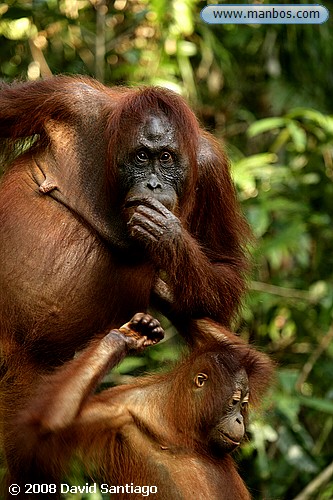 ORANGUTANES DE BORNEO