... environment, full of tall peaks and smoking volcanoes that are full of life: giants that appear to be sleeping, but that sometimes wake up with a fury that destroys everything in their path.

In spite of this the Indonesians have occupied both the flat areas and the hillsides of the volcanoes on the island, in search of fertile ground for agriculture and, in other cases, for the sulphur that also comes from the volcanoes to sell in the city.

A good example of this is the turquoise-coloured Al Kawah Ijen lake, where sulphur collectors go in the morning and return later in the day carrying baskets full of sulphur that can weigh more than 90kg.

Equally amazing is the Bromo-Tegger-Semeru National Park which contains three volcanoes that rise out of the Tegger crater, creating one of the most recognizable images not just in Indonesia, but the world.

The park also contains the highest peak in Java, Gunung Semeru, at 3,676m high, which is one of the most active volcanoes, sometimes producing a cloud of ash that covers the entire countryside.

One of the most popular excursions is climbing the Bromo volcano, which has had 253 steps built into it to allow people to reach the top. The views are amazing, although it is constantly emitting sulphurous vapour, so it is necessary to cover your mouth with a damp cloth.

Look the photos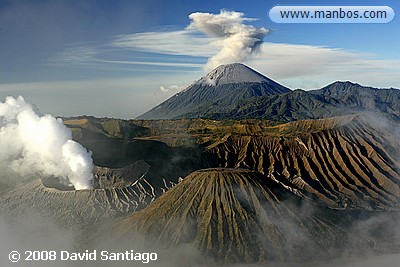 VOLCANES DE JAVA
Fotogaleria JAVA OCT 2008
(83 Photos) Java Pictures