... unique living laboratory in the world.

Added to this idyllic beaches that hide under their stunning coral reefs waters (at least 400 species of coral), with fish of all sizes and colors (more than 1,000 different species).

We are therefore in an idyllic spot for snorkeling and diving, where the fan is facing challenges such as watching the world's largest fish, the whale shark. Octopuses, cuttlefish, squid fascinated with their tactics of survival by camouflage, while common close encounters with sea turtles.

Another attraction of the island is a visit to the famous underground river in the St Paul Subterranean Park, a place which is reached by boat or vehicle pumpboats. St Paul's cave, is a fascinating underground river where you can see huge stalactites, upon which rests a large colony of bats that fly by touching the heads of the tourists.

Puerto Princesa, the capital of Palawan and is an excellent place to get around the island in search of unspoiled beaches, caves and jungles located in the center of the island.

And finally, tourists can not go without visiting Palawan El Nido, a place where majestic cliffs of black marble offer swiftlets (a kind of swallow) cracks enough to build their nests. It's like being in paradise, in that place where we have so often dreamed of going and I finally became a reality on the island of Palawan.

The day trips cost $ 10 and will include food. The menu consists of a hearty salad and grilled fish, accompanied by fruit. Naturally, the food is in front of the beach, feet in water.
Look the photos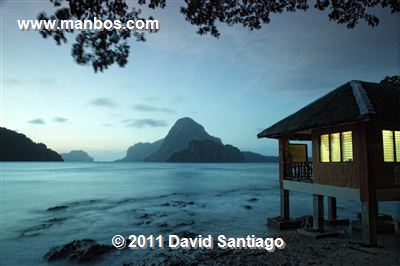 FILIPINAS - EL NIDO-CADLAO ISLAND